As with a lot of TV series - particularly long-running ones - Game of Thrones has not avoided the recasting net. Actors may want out or directors may feel their original choice doesn't do justice to the role. Sometimes cast changes go unnoticed, whilst others are strikingly obvious.
Here are 10 Game of Thrones actors who were replaced after filming began.
1. Daario Naharis
During Season 3 Daenerys's lover was played by Ed Skrein, but he was replaced by Michiel Huisman for the 4th season. The reason? Ed Skrein was busy shooting The Transporter Refueled, meaning he was frequently absent from the GoT set. The directors therefore decided to oust him from the show.
2. Beric Dondarrion
David Michael Scott played Beric during Season 1. Richard Dormer then replaced him, although no explication was ever given.
3. The Three-Eyed Raven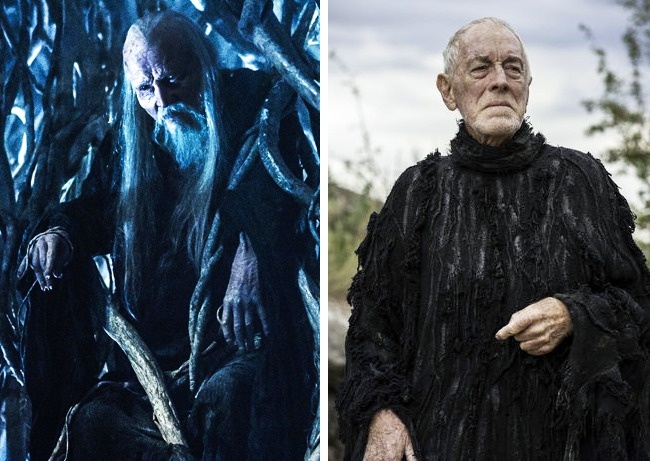 © HBO © HBO
This strange character was first played by Struan Rodger, but GoT managed to land the Oscar-winning actor Max von Sydow from Season 5 onwards. Some people believe it was to make Bran's storyline more interesting, but whatever the case, fans agree that the Raven's recasting was a step in the right direction.
4. Tommen Baratheon
Children's characters are often recast during series, simply because kids grow up faster than the role they play. Cersei and Jaime Lannister's son has been played by two actors - Callum Wharry until the end of Season 3 and Dean-Charles Chapman from Season 4 onwards. This was a perfectly logical decision, as by Season 4, Tommen needed to be old enough to marry. The added twist? Chapman played Martyn Lannister during Season 3!
5. Selyse Baratheon
Sarah MacKeever played Stannis Baratheon's wife for one Season 2 scene. Tara Fitzgerald took over further down the line, when the character's role in the series evolved.
6. Dickon Tarly
Freddie Stroma played Dickon during Season 6 whilst also shooting Time After Time. He decided to concentrate on the latter, at which point Tom Hopper took over the role of Lord Randyll Tarly's son.
7. The Night King
Richard Brake played the Night King during Seasons 4 and 5, turning Craster's son into a white walker during his on-set reign. However he was replaced by Vladimir Furdik for Season 6. Brake apparently had scheduling conflicts, but the show didn't suffer as Furdik's steely blue-eyed performance received positive reviews.
8. Myrcella Baratheon
Irish actress Aimee Richardson played Myrcella when the show first aired. Myrcella then disappeared for 2 seasons, reappearing in Season 5, but with Nell Tiger Free taking over the role. As with Tommen, the change was due to the original actor growing up quicker than the character they portrayed.
9. The Mountain
No less than 3 actors have played The Mountain! Australian Conan Stevens appeared in Season 1, but left the show due to a role in The Hobbit. Stuntman Ian Whyte, took over until Season 4, at which point the third actor, Hafþór Júlíus Björnsson, stepped into The Mountain's shoes.
10. Tyrion Lannister?
No, the amazing Peter Dinklage has never been replaced, but we have noticed that his beard and hair seem to get blonder (or grayer?) by the episode!
Source: pikabu